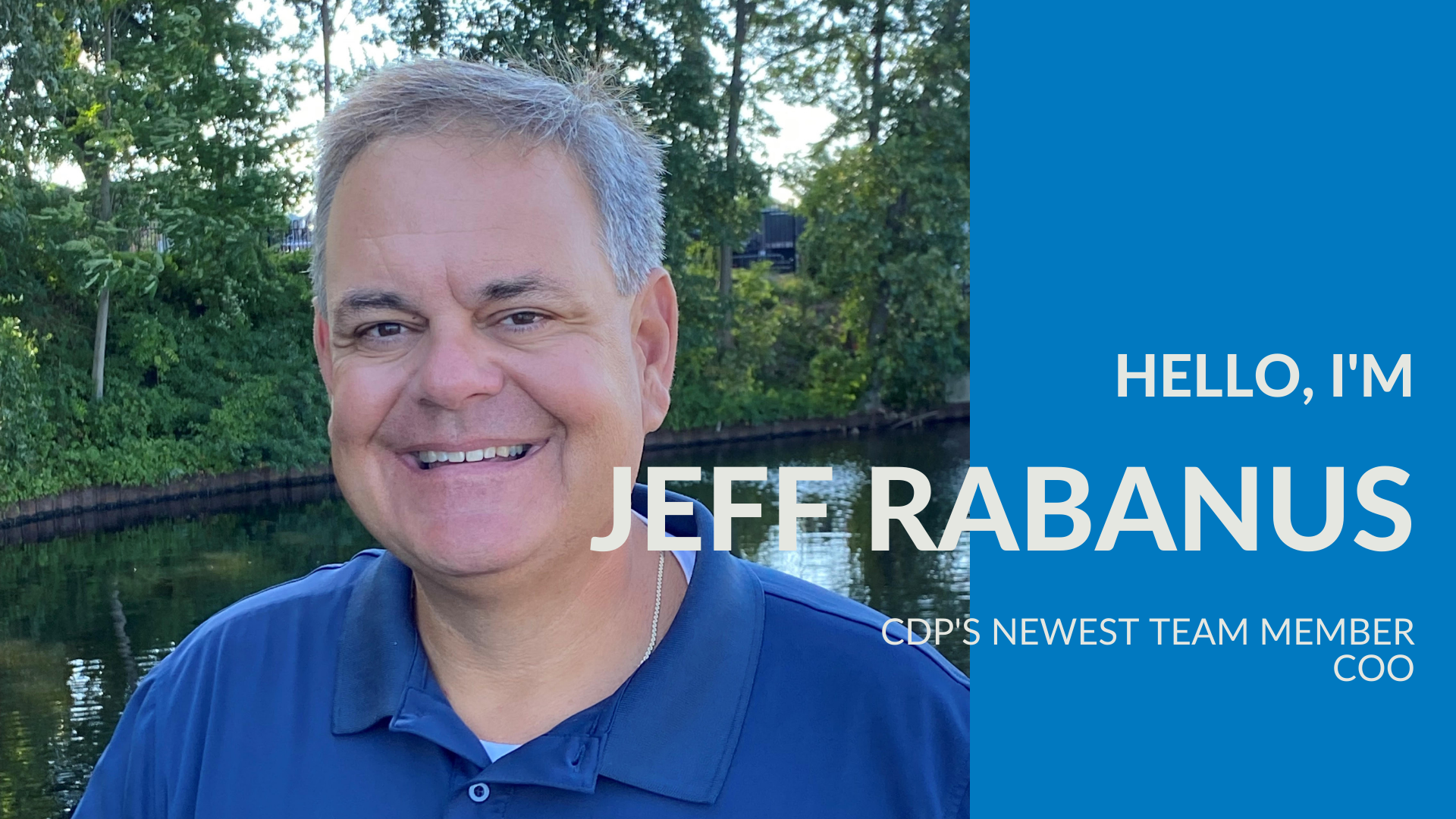 To continue to serve our customers more effectively, CDP always looks to add top talent to our team.
We are thrilled to announce that we hired Jeff Rabanus, a seasoned veteran of the credit union industry with nearly three decades of experience in the space. As our new COO, Jeff will initially be involved in marketing and business development to credit unions and banks that are less than $200M in assets. As time goes on, CDP will use Jeff's expertise in identifying and defining new solutions that our team can bring to market, ranging from solutions focused on improving productivity, easing compliance, and helping generate revenue for this client base.
Over the years, Jeff has held every position in a credit union, including teller, financial service rep, and even CEO. Considering himself a "servant leader," Jeff's goal is to help the people he works with achieve success in all that they do.
"When you're successful, we're all successful," Jeff says.
Jeff brings a collaborative management style to CDP. His top priority is to build strong relationships with his team, and he uses his high emotional intelligence to achieve that.
Before coming to CDP, Jeff worked as CEO of Metro North Federal Credit Union (MNFCU) based in Waterford, Michigan. MNFCU was originally a teachers' credit union that evolved and diversified over time.
Pivoting from Credit Unions to Credit Union Solutions
Although CDP is still in the credit union world, Jeff's new role is a pivot from his past positions. He's excited to look at credit union growth through the lens of technology.
As a previous CDP customer and CEO Jeff knows firsthand how credit unions can benefit from CDP's solutions. He's looking forward to helping credit unions transform their operations by making smart investments in technology.
Working with CDP Before Joining the Team
Before joining the team, Jeff had worked with CDP for quite some time. When he started working at MNFCU, Jeff spoke with Nirav Doshi, CEO of CDP. He used many of the company's solutions over the years, including eTeller and ePrint.
"Whenever we had a problem, CDP was right on top of it," Jeff explains. "If we had a problem, we'd give them a call and the problem was taken care of. Truly great customer service."
Whenever CDP released new products, the company would reach out to Jeff and his team to help them determine whether the new solution was a good fit for their needs.
Last year, Nirav called Jeff and asked him if he was interested in switching from working for a credit union to working for a technology company that supports credit unions.
Career Highlights, Memberships, and Accolades
Jeff has accomplished a great deal over the years, joining many different organizations and contributing to his teams' successes:
As an associate board member of the Michigan Credit Union League Jeff followed his passion for advocating for credit unions.
Jeff served as Chair of theOakland County Chapter of Credit Unions.
He is also Past President and Treasurer member of the Rotary Club of Waterford.
Jeff received the Paul Harris Award, issued by the Rotary Club, twice.
Jeff mentors local high school students, volunteers for community groups, and participates in community activities.
Jeff takes pride in his teams' successes. At MNFCU, he and his team helped grow the credit union from $32 million in assets to $48 million through coaching and relationship-building.
As a small credit union, the MNFCU and Jeff's team were ahead of their time. For example, they were one of the first small credit unions with a mobile app, online loan applications, and an interactive website.
What Does Jeff Like to Do in His Spare Time?
When he's not helping credit unions improve their processes and add more value for their members, Jeff loves following college sports, and the Big Ten.
Jeff lives in Michigan with his family.