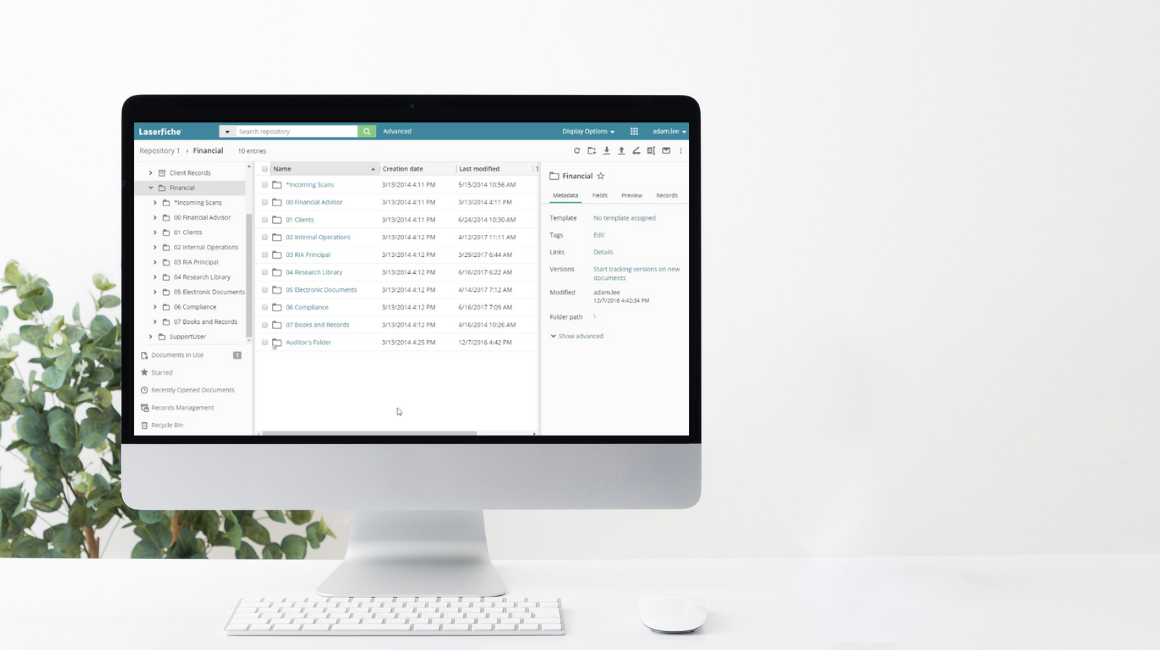 Smart credit unions have always been focused on improving operations to deliver more value to members. In today's tech-driven age, one of the easiest ways to do that is by investing in digital solutions that enable credit unions to move faster and operate more efficiently.
On one end of the spectrum, such investments might include member-facing tablets, bespoke mobile apps, or eSignature solutions that allow members to sign legal documents electronically. On the other end, investments might include employee-facing solutions that are designed specifically to support back-office credit union processes.
One such example of this is Laserfiche, an electronic content management, business process automation, and analytics solution designed for financial services firms, governments, healthcare companies, and other similar organizations.
With that in mind, let's take a look at some of the more common questions credit unions have about Laserfiche.
What is Laserfiche?
Laserfiche is a powerful, cloud-based software solution that enables credit unions to increase organizational efficiency with customers in more than 80 countries around the world, Laserfiche is a proven solution for organizations looking to improve day-to-day operations.
Instead of processing loans manually, transferring records from one location to the next, and searching endlessly for paper documents, Laserfiche enables users to take care of all of these tasks from any connected device. This, in turn, delivers a number of benefits to credit unions, which we'll examine later on.
CDP is proud to partner with Laserfiche.
Why should my credit union use Laserfiche?
Although every credit union is different, those that still rely on outdated tools and systems face the same challenges. Here are some of the main reasons why credit unions ultimately decide to invest in Laserfiche as they accelerate their digital transformation initiatives:
They're relying on slow, paper-based processes.
Having your team fill out mountains of paperwork every day isn't the most efficient use of time. At the highest level, Laserfiche helps credit unions modernize and streamline their business processes, accelerating output along the way.
Manual tasks are prone to error.
Besides the fact that most folks aren't thrilled when their jobs involve doing the same thing over and over again, when tasks have to be manually updated, they can be prone to errors or left with missing information. If this becomes a continuous issue, it's a telltale sign that it may be time to invest in a digital system.
The team struggles to quickly find data and information.
In the age of Google searches, everyone knows how easy it is to find information through digital means. Unfortunately, credit unions that use paper-based processes spend a lot of time hunting things down. This presents the perfect opportunity to move to a digital system that increases data accessibility.
Although the above list isn't exhaustive, if these pain points sound familiar, it may be time to invest in a solution like Laserfiche.
What are the benefits of Laserfiche for credit union employees?
When you invest in Laserfiche, your employees' jobs become much easier. Instead of dealing with tons of paperwork, they can take care of tasks electronically. This allows them to work faster, get more done, and reduce overall clutter.
As a result, employees will be less frustrated with work and in overall better moods. In turn, they can deliver even stronger experiences for members in every interaction.
What are the benefits of Laserfiche for credit union members?
Credit union members will no doubt notice the improved employee morale. In an age in which the customer experience is becoming a key differentiator with competitors, this is a big deal.
In addition to dealing with friendlier employees, members can also get the information they're looking for faster and complete their banking tasks in less time. You're also giving members the convenient option to not come in, providing better, higher-touch opportunities for credit unions to make a real impact.
Supercharge your digital transformation with Laserfiche!
As your credit union moves forward with its digital transformation, chances are that it's going to be heavily focused on the most member-facing parts of the business (e.g., a mobile app or in-branch tablets).
Never forget that your credit union is only as strong as the people who power it. That being the case, you certainly can't afford to overlook investing in tools that help your team work more effectively.
With this in mind, Laserfiche should be considered an essential part of your credit union's overall digital transformation strategy.
For more information on what your credit union can do to improve processes and deliver stronger member experiences, check this out.