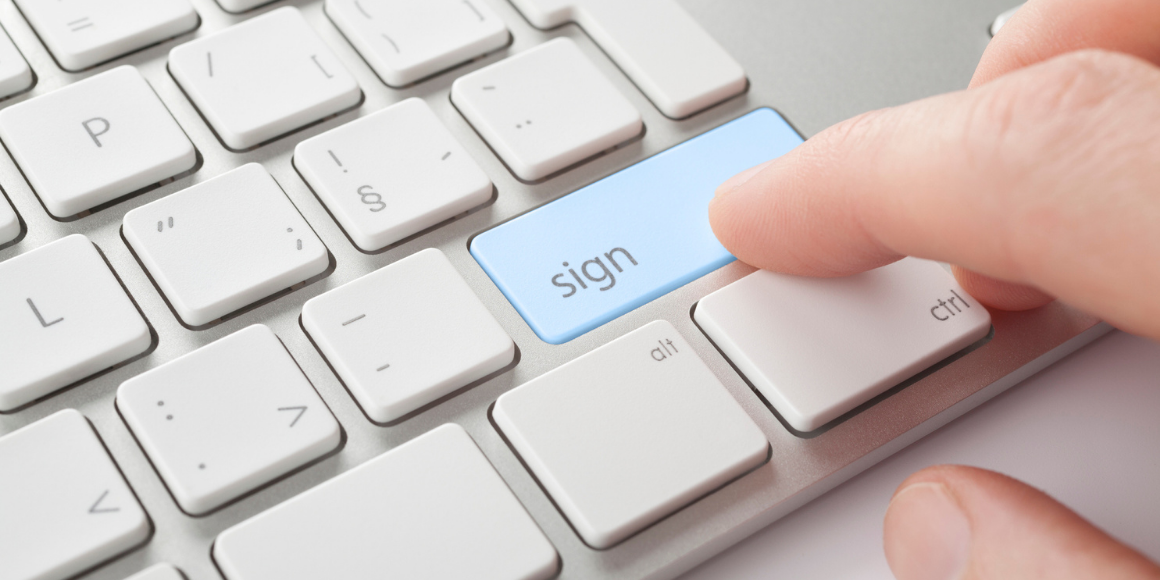 It used to be that banks, credit unions, government agencies, and small businesses had no choice but to sign important legal documents by hand.
That all changed when the Electronic Signatures in Global and National Commerce
Act (E-Sign Act) became law on June 30, 2000. Very simply, the E-Sign Act is a piece of legislation that enables individuals to use electronic signatures on legally binding contractual agreements.
In the past, people had no choice but to print out forms, sign them by hand, scan them, and send them to the other party. All of this can now be electronically facilitated using a solution such as electronic signatures, speeding up the process and reducing paper, ink, and postage costs.
What are electronic signatures?
Electronic signatures make it easy for organizations to send, receive, and sign digital documents from any connected device.
What are the benefits of electronic signatures?
By investing in technology that facilitates electronic signatures, organizations benefit in many different ways, including:
Unlimited use cases, with the ability to electronically sign many different types of contracts and documents
Increased productivity, with employees no longer having to scan documents or search for papers in massive stacks or filing cabinets.
Happier customers, who can now sign important documents faster than ever before.
Business continuity, with the ability to keep doors open in any scenario because of digital-first operations.
More customers, with the ability to target a wider geographic location due to the digital nature of the business.
Data accuracy, with the elimination of manual data-entry errors.
Now that you have a better idea of some of the ways electronic signatures can benefit your organization, let's look at the specific businesses and organizations that can benefit from the technology.
Who could benefit from using electronic signatures?
Banks and Credit Unions
Banks and credit unions use electronic signature technology to accelerate the speed of transactions. Instead of having to send documentation through the mail and wait on signatures, bank employees can process these transactions much faster—reclaiming as much as 80 percent of the time they would previously devote to the same tasks.
Additionally, banks and credit unions use the technology to support their internal processes too. Some use cases include processing job applications, making job offers, verifying accounts payable, and submitting purchase orders.
Local Governments
Government agencies use electronic signatures to track important information across the organization, process health plans, and otherwise advance their investments in automation and digital transformation.
Small Businesses
Small businesses—such as startups, marketing agencies, and even real estate firms—can use electronic signatures to onboard new employees, sign legal contracts, and administer benefits programs (e.g., healthcare and 401k).
How can electronic signatures be incorporated into business processes?
Unfortunately, you can't just invest in electronic signature technology and expect great things to happen overnight. For the best results, keep these three tips in mind as you begin to deploy electronic signature functionality across your operation.
1. Search for the right solution.
Not every electronic signature solution is the same. That being the case, you must do your due diligence and research all options on the market. Spend time defining your requirements, assessing your options, and talking to each vendor to ensure you make a data-driven decision.
2. Train your team and customers.
When it comes to using any new technology, there will be a bit of a learning curve. Increase the chances your efforts are successful by investing appropriate time and resources into training your employees and customers so they can learn their way around the technology.
3. Partner with the right provider.
Ensuring success with your electronic signature investments starts with partnering with the right provider—an entity that can see your electronic signature deployment through from conception to completion. The right partner will see themselves as an extension of your team and work hard to ensure your investments return the ROI you're hoping for.
We might be a bit biased, but we believe the CDP is best positioned to help organizations like yours unlock the full potential of electronic signature technology.
To learn more about how CDP can help your bank, government agency, or small business get the most out of electronic signature, request a demo.