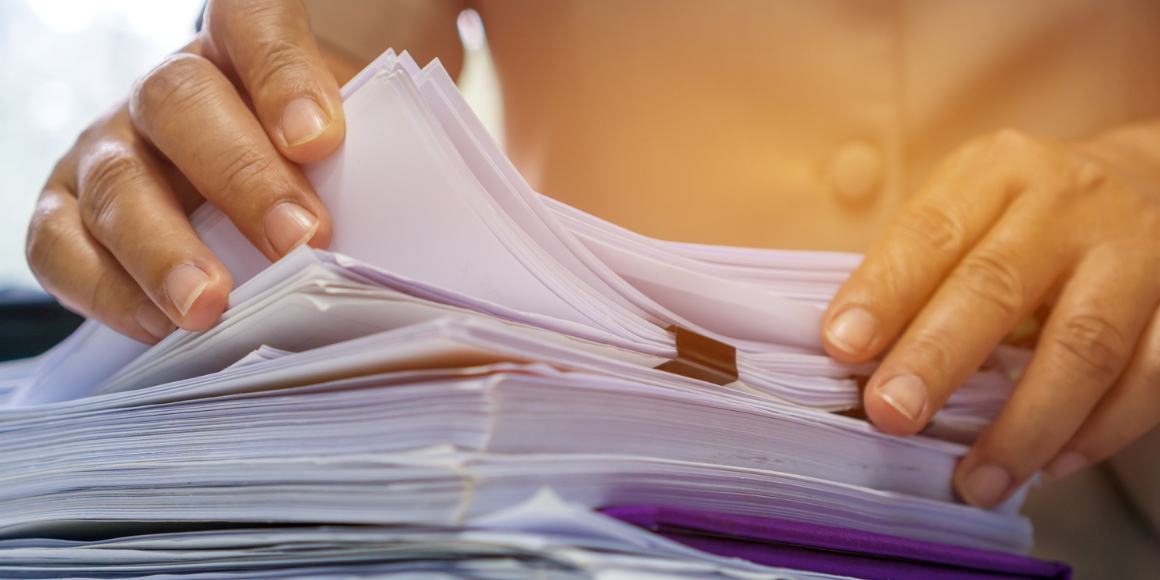 Investing in modern tools can accelerate credit union digital transformation journeys in many different ways. For example, by making smart investments in new technologies, credit unions can transform their approach to document management—and put their businesses in a much stronger place because of it.
If your credit union has been handling documents the same way for years, chances are you have clunky filing cabinets jammed-packed with forms scattered across your office. As such, it's nearly impossible for employees to find information with any sense of urgency—to the point that your average worker spends nearly 20 percent of their week trying to find information.
The good news? By investing in tools purpose-built for bank document management, it becomes much easier to find information. On top of that, version control problems disappear, paper waste decreases, and working space is reclaimed, reducing clutter and improving the appearance of your branch.
Additionally, the right document management systems enable you to automate record retention, making it that much easier to ensure compliance.
Investing in document management solutions is one thing. Using them to their full potential is quite another. Keep reading to learn more about how to use this technology to transform your credit union.
Document Management for Banks Made Easy
Unfortunately, you can't just decide to invest in document management and expect great results. With that in mind, use these credit union document management tips to achieve the outcomes you're aiming for.
1. Invest in a purpose-built document management solution.
Not every document management platform is the same. That being the case, you need to do your due diligence to determine which solution on the market is most capable of meeting your credit union's needs.
As a purpose-built enterprise content management solution designed for credit unions and financial institutions, Laserfiche is an option you should certainly explore.
2. Utilize the built-in search engine.
The right platform will make it incredibly easy to find the information you need. Instead of hopping from platform to platform and repository to repository, users have access to a built-in search engine to track down the files they need. This enables them to reclaim the time they would previously spend searching for information—and they can reinvest that time in other essential areas of operations.
3. Standardize naming conventions.
It's essential for credit unions to have standardized naming conventions—and document management systems can ensure everyone sticks to them. This way, it will be easy to search for information because everyone will know what files should be named. As a bonus, this also solves version control problems by ensuring everyone is working off the most recent files.
4. Deduplicate content.
As you bring your new document management system online, it's important to spend time organizing all of your files to ensure you only have one copy of each document. Once again, this will help you avoid version control problems.
5. Add context to file names and connect related documents.
Leading document management solutions enable you to add context to files to provide more information to users. For example, you can add relevant information about an account, invoice, or vendor so the next employee who opens the file can quickly get up to speed.
The right solution will also enable you to connect relevant documents to each file, driving additional productivity gains and helping employees make more informed decisions.
6. Collaborate securely.
Once all files are in one safe place, it becomes that much easier for teams to collaborate openly and securely. By investing in a document management solution, credit unions can empower employees to collaborate from any connected device, further increasing productivity.
CDP: The Go-To Solution for Credit Union Document Management
If you're looking to add Laserfiche to your credit union's tech stack, you've come to the right place. With a track record of helping organizations like yours make the most out of their Laserfiche investments, CDP is uniquely positioned to accelerate your credit union's digital transformation efforts.
To learn more about the easiest way to master document management for banks, request a demo today.